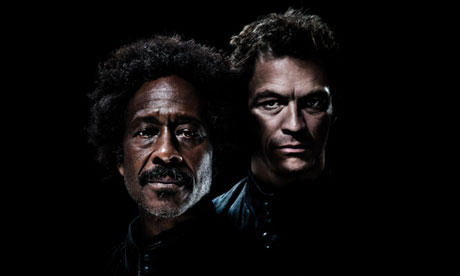 Clarke Peters as Othello and Dominic West as Iago

Of all of Shakespeare's plays, Othello has to be one of the darkest and most sinister but also one which shows the playwright's incredible talent to mix his character's motives and acts into one superb plot.
Othello, perhaps should be re-titled Iago since this character is perhaps the most prominent throughout the play and the plot is created around his jealousies, his motives and actions and how they bring about the demise and misery of so many of the other characters. The chief of these being Othello, a Moor and commander of the armed forces of Venice. Iago despises him not only for marrying Desdemona, a lady whom he had once sought favour with but also because Othello passed over him for promotion as his new lieutenant and instead chose a Florentine by the name of Michael Cassio. An embittered Iago having had his pride wounded twice, now seeks revenge and plans Othello's downfall by any means using anyone at his disposal to help him in his quest. This is a story of prejudice, jealousy and lies and how one man's overwhelming desire for revenge leads him to commit the ruthless and heinous acts that he does. The tragedy of the piece lies in the deaths of those who were deceived by the man they blindly trusted.
Dominc West as Iago and Clarke Peters as Othello. Photo by Geraint Lewis

It also raises the question of Othello's character and whether he was an honourable yet tragic hero for putting his trust in his adviser or a vulnerable and tragic fool who unwittingly takes part in the murder of his wife. It is also however a story of love; the love between Othello and Desdemona, the love between Desdemona and Emilia and how their loves progress throughout the play. Love may be blinded in some instances but in the end I do believe that love conquers all – even if it was in death.
This latest production of Othello at Sheffield's Crucible Theatre, features the brilliant talents of Dominic West as Iago and Clarke Peters as Othello and is supported by the superb Lily James, Gwilym Lee and Alexandra Gilbreath as Desdemona, Cassio and Emilia respectively. These central characters interact wonderfully with each other and I found myself totally engrossed in the plot and the development of each character. I enjoyed watching Othello start as the well respected commander in love with his new bride turn slowly into a mad and jealous husband who goes out of his mind in jealousy through the web of lies and insinuation spun by Iago. Desdemona was a sweet and beautiful breath of fresh air whose innocence, trust and love of other characters led to her ultimate death and indeed I found her death scene quite upsetting and disturbing. Emilia provided some light relief to an otherwise dark and sinister plot with her quick and witty lines and it was touching to see the love that she had for her mistress. Iago from the start declares himself to be the villain of the piece and Dominic West played him to perfection. There was something about his performance that drew you to his character and although you knew you should despise him for what he had done, you could not help but admire his shrewdness and cunning and wonder at the blindness of the other characters to his deceit.
Lily James as Desdemona, Dominic West as Iago and Clarke Peters as Othello. Photo by Johan Persson

I think this was perhaps the first time I have ever seen a Shakespeare play performed in traditional Elizabethan costume and I thought that this combined with the relatively unobtrusive set made for a great setting. This play is relatively long (almost 3 hours) and owing to the subject is quite draining but the excellent performances from the actors meant that you were totally engrossed in the plot and were on the edge of your seat waiting to see what happened next. Even if you were familiar with the story I think you would be upset by some scenes but it all made for great theatre and a performance I would recommend not just for entertainment and the great use of language but the questions it will raise afterwards which will be great topics for conversation and debate.
Othello is showing at the Crucible until Oct 15th 2011. For more information see:
http://www.sheffieldtheatres.co.uk/index.cfm?fuseaction=whatson.production&ProductionID=1152
or contact the box office for the few remaining tickets available 0114 249 6000